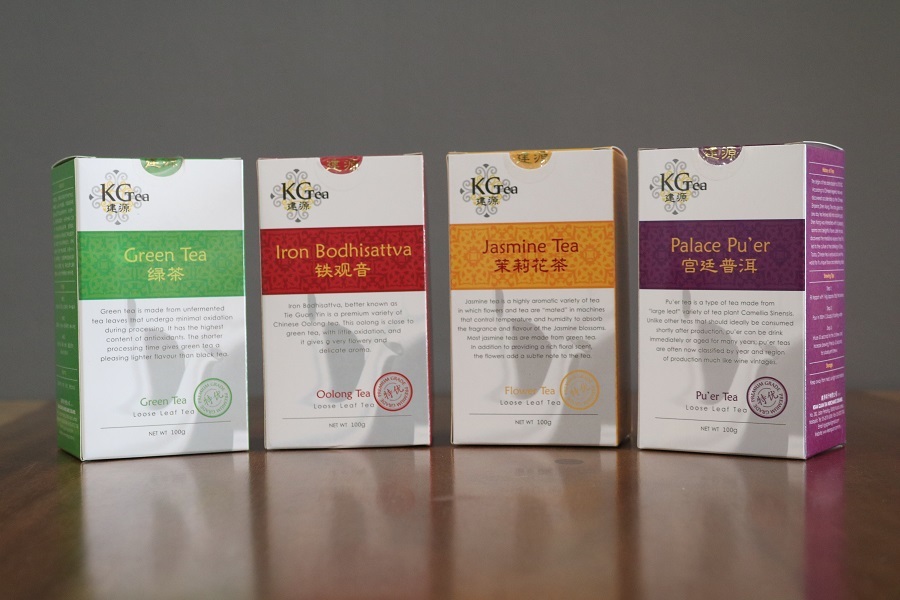 KGTea 100g loose tea series
KGTea 100g loose tea series
Jasmine Tea is a highly aromatic variety of tea in which flowers and tea are "mated" in machines that control temperature and humidity to absorb the fragrance and flavour of the Jasmine blossoms. Most jasmine teas are made from green tea. In addition to providing a rich floral scent, the flowers add a subtle note to the tea..

Tie Kuan Yin tea has been a popular beverage enjoyed by people for centuries, and from past experience, been used to promote good health, cure diseases and promise longevity. Recent experiments have proven tea to be effective in antiageing and prevention of cardiovascular diseases.

Pu'er tea is a type of tea made from "large leaf" variety of tea plant Camellia Sinensis. Unlike other teas that should ideally be consumed shortly after production, pu'er can be drink immediately or aged for many years; pu'er teas are often now classified by year and region of production much like wine vintages.

Green tea is made from unfermented tea leaves that undergo minimal oxidation during processing. It has the highest content of antioxidants. The shorter processing time gives green tea a pleasing lighter flavour than black tea.